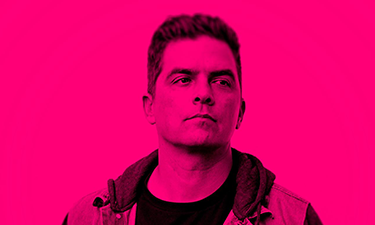 Andy Caldwell is a three-time GRAMMY-nominated electronic artist, in-demand songwriter and producer, and world-touring DJ who's left an indelible mark on dance music for more than two decades. A key architect of the deep house sound, the San Francisco-born, Los Angeles-based artist has forever impacted the global house and dance underground via his multiple projects from his days as part of the innovative live house act Soulstice to his tastemaker record label, Uno Recordings, and his timeless sound. Now entering his next creative era, Caldwell continues to push dance music culture to new ground as an artist, producer, entrepreneur, and forward-thinking innovator.
Caldwell is inextricably linked to San Francisco's underground rave movement of the early '90s, a scene, and sound he shaped as a then-burgeoning solo artist, first via his breakthrough 1994 solo single "Superfunkidiculous," and later as a founding member of Soulstice, his groundbreaking live house group alongside childhood friend Gabriel René. As Soulstice, Caldwell crafted moody downtempo electronic music that mixed elements of jazz, soul and trip-hop in a live-DJ hybrid format. The group released three influential albums on seminal San Francisco imprint Om Records: the critically acclaimed Illusion (2001) and its accompanying remix album, Mixed Illusions (2001), and In the Light (2011). The Soulstice sound, today considered a permanent part of San Francisco's dance music history and musical DNA, solidified the group as one of the first acts in the U.S. to mix live performance and recording elements atop an electronic framework.
Bolstered by the keen production, songwriting, and remixing skills he adopted via his commercial and creative breakthrough with Soulstice, Caldwell has since become one of the most sought-after artists and producers in the scene. As a solo artist, he's built an impressive, genre-expansive body of work, which includes his debut album, Universal Truth (2006, Om Records), and his follow-up full-length, Obsession (2009, Uno Recordings/Tommy Boy Records). He's also released multiple original tracks, remixes, and EPs on some of the leading electronic labels of the day, including Ultra Records, Toolroom, Yoshitoshi, and Naked Music, among others, in addition to various compilations and DJ mix albums. Caldwell is scheduled to release an album project featuring all-new music in 2020.
As a top-tier remixer, he's reworked classic tracks from underground icons and mainstream legends alike, including Beyonce, Major Lazer, Lenny Kravitz, Paul Oakenfold, The Bee Gees, Jennifer Lopez, Foster the People, and many others. Caldwell's music has also been featured on dozens of major films (Forces of Nature, Skulls), national TV shows (Sex in the City, Six Feet Under), and video game franchises (FIFA).
Through his various projects, Caldwell has garnered three GRAMMY nominations for his collaborative songwriting and solo remixing work. He received his first-ever GRAMMY nomination for his co-writing and co-production work on Kaskade's 2006 single "Sorry," which was nominated for Best Remixed Recording, Non- Classical for Dirty South's remix in 2008. Elsewhere, Caldwell's 2008 original track "Funk Nasty," featuring Gramma Funk, notched him a second GRAMMY nomination for Best Remixed Recording, Non-Classical via Wolfgang Gartner's remix in 2011. Most recently in 2014, Caldwell secured his third overall and first solo GRAMMY nomination, again for Best Remixed Recording, Non-Classical, for his remix of "Days Turn Into Nights" from Canadian electronic group Delerium.
Beyond his original music, Caldwell is a multifaceted tastemaker and innovative entrepreneur. In 2004, he founded his trendsetting imprint, Uno Recordings. In addition to releasing his own music, Uno Recordings has helped launch the careers of electronic heavyweights like Wolfgang Gartner, Trentemà ̧ller, Behrouz, Yoshimoto, and many others.
Most recently, Caldwell launched IO Music Academy, a pioneering boutique music production school based in Los Angeles. Founded in 2017, IO Music Academy provides a high- quality, artist-centric curriculum focused on engaging music education, boundless creativity, and cutting-edge technology. The school, which hosts regular free workshops and masterclasses with electronic legends and rising artists like ZHU, Justin Jay, Sharam, Sultan + Shepard, and others, is today ushering in the next generation of producers and artists. IO Music Academy has partnered with and presented at world-class music and tech conferences, including Winter Music Conference, across the years.
Since its launch, IO Music Academy has fostered a tight-knit community where aspiring producers and emerging artists can collaborate and create within a supportive, creative space. For Caldwell, who's an active member and engaged mentor of the IO community, the school has become a newfound source for inspiration and creativity for his own music and projects.
"The community we've built at IO Music Academy is really important to me on a personal and creative level," Caldwell says. "As electronic artists, we are more or less isolated. It's often difficult to connect with others in our field. I come from a time in dance music where the local record shop was also the place where you would rub shoulders with DJs and producers from your immediate community. This is something we've really worked hard to nurture at IO. Building this creative space has allowed me to refocus my artistic energy into music that deeply resonates with me and that I truly love." John Ochoa, January 2020