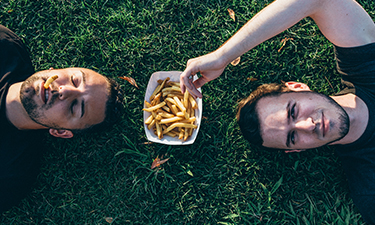 American duo Disco Fries have become a staple in modern dance music by walking the sonic tightrope between mainstream and club stream. From the dorm rooms at Berklee College of Music to the stage at EDC Las Vegas, Nick Ditri and Danny Boselovic have not only blurred genres with their signature blown-out basslines and classically driven melodies but have remained best friends throughout the journey. From the moment Nick and Danny looked at a plate of "Disco Fries"(otherwise known as french fries with cheese and gravy). They realized they had just discovered their artist name, their music has been championed by some of the biggest names in dance: from artists like Kaskade, Diplo, Steve Aoki, and Hardwell to popular media outlets such as Billboard, MTV, Rolling Stone, and Dancing Astronaut.
No matter how large the support list grew, one artist, in particular, would change the course for the Disco Fries. That happened in 2013 at Electric Zoo, when the dance music icon; Tiesto, debuted "Lose It". From that moment forward, Tiesto forged a working relationship with Nick and Danny that lead to multiple works. The first was their collaboration, "iTrance", which was quickly followed by the Disco Fries' first release on Tiesto's record label, Musical Freedom, dubbed "Philtrum". After witnessing how influential Musical Freedom Records was for not only them but for many producers looking for an outlet to release music, Nick and Danny sought to provide a similar space by starting their own imprint, Liftoff Recordings. The label has encompassed a radio show, releases, and more in an effort to nurture up-and-coming talent.
As years progressed, the duo's discography saw massive growth with production and writing credits on Krewella's Live For The Night and Tiësto's fifth studio album, A Town Called Paradise. The latter of which featured the smash single, "Wasted", which went on to become TIESTO's first certified Platinum single in the United States. The Disco Fries saw not only success in the dance world but got a true taste of what real crossover music would look like moving forward.
With a rich history cementing them as trailblazers within the dance crossover community, the duo looked to the future and brought their magic back. Their debut EP, Autonomous, was released on Liftoff Recording to great succes and featured the iconic Halogen Mix of "Born Ready" ft. Hope Murphy reaching over 15 MILLION STREAMS on SPOTIFY and charting worldwide. The duo's subsequent Liftoff Releases, Stars Come Out (with RUNAGROUND) and We Are One (ft. Kaaze and Danyka Nadeau), also gained traction on Spotify and have collectively been streamed over 10 million times to date. Their "DF EP" gained rotation on SiriusXM BPM and on FM stations nationwide, as their follow-up single "U Make Me" hit Mediabase's Dance Top 50 chart and went #1 for 3 consecutive weeks on SiriusXM BPM.
Disco Fries teamed up with Bingo Players and released "Forever Love" ft. Viiq on Hysteria/Spinnin. The song went Top 3 at Billboard Dance-Mixshow, Top 50 at US Pop Radio, and Top 3 at US Dance Radio. Following that, most recently, Disco Fries went #1 at radio with their single "Pieces" w/ Bingo Players and Vassy.
With over 2 million monthly listeners across streaming services, the Fries are always looking to push themselves even further. Their latest venture FinishMyTrack.com capitalizes on what the Disco Fries are most known for, finishing records. Helping both established and up-and-comers take their songs from 70% to retail ready, the Disco Fries launched the world's first "finishing house", offering services from additional production to track assessment. In addition, they have teamed up with SonyATV for a joint publishing venture and invested in e-sports organizations such as FaZe Clan and X-Set and as a result have been featured on Yahoo News and Business Insider.
"We're always looking to explore new sounds and ways to expand our music to new touchpoints. We want to keep making music that we enjoy sharing with people that enjoy hearing it. The party never ends for us."