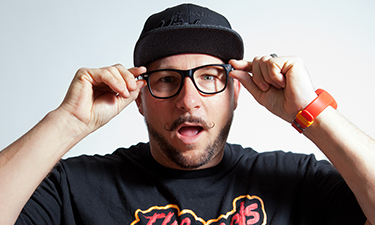 From New York to Miami to Las Vegas: Wherever the party's hot, you will find Scooter on the turntables.
Scooter started DJing because of his love and passion for music. That passion soon turned into a full-time career. Scooter's signature vibrant style is a genre-bending, mind-blowing mix that is always fresh and exciting. Unlike other DJs who jump on house or hip hop as they come in and out of popularity, Scooter has mastered both hip hop and house and has been producing house music for over 15 years. He is one of the few DJs who can spin for a hip hop crowd and the next night play for an electronic crowd, rockin' both parties easily and with amazing prowess.
His unparalleled talent and technical skills on the turntables have allowed him to perform in nearly every state in the United States. Scooter has not only established himself as a renowned DJ nationwide but internationally as well. He has traveled and performed in the Dominican Republic, China, Korea, France, Mexico, Canada, Argentina, and Guatemala, just to name a few.
Other DJs may play music, but what sets Scooter apart is his innate ability to read and rock any crowd. "If the people aren't happy and loving the music, I'm not doing my job," claims Scooter. Regardless of the venue or event, he always chooses the music that will not only rock the crowd at hand but leave them with an unforgettable party experience.
He has an infectious enthusiasm when he is rockin' the decks. In the midst of a jam, he can be seen jumping up and down, pumping his fists, and yelling on the mic for everyone to throw their hands in the air. In a nutshell, Scooter's performances are full of non-stop energy.
One half of the dynamic duo, Scooter and Lavelle, Scooter's hip hop loops and turntable skills are combined with Lavelle's banging progressive mixes to bring audiences an explosive performance. Scooter has also established himself as an accomplished producer, scoring a Top 10 hit on XM Radio with Scooter and Lavelle's "Beats Inside My Head." He has also been retained to create music for WWF and Bravo TV.
A phenomenal DJ as well as an accomplished producer, DJ Scooter does it all. He continues to provide the best in nightlife entertainment around the globe.
Upcoming Events